Install Cleo Mods On GTA San Andreas in android without root
Hi everyone today in this article or post i will be teaching you guys how to install cleo mods on gta san andreas in android without root.
Now you guys know or not to install cleo mods on gta san andreas you really need root access on it right.? So in this tutorial i will show you how to properly install cleo mods on gta san andreas so that you can instal wihtout hesitating having a root access.
So let's deep dive into this tutorial right now.
Quick Video Guide
https://www.youtube.com/embed/AhHA0-XvuJ8
What is Cleo mod?
Cleo mod is an alteration that changes some part of gta san andreas, such as how it looks and react.
Mods Basically means to modifying the game, So Cleo mod is also the MOD version game for GTA SAN Andreas and i know this sounds funny.
But yes we can modify the games for to make it more enjoy and playable. 🙂
Cleo Mod Features:
Enable cheat by tapping not typing.
Spawn vehicles at no time.
No damage to Vehicles.
Health auto gain and upgraded health.
Turbo mode for Vechiles with one tap power button.
Swat protection.
Teleportation.
Drunk mode to get drunk.
And many more ….Etc.
Requirements:
Harddisk/ Storage : 4Gb ++ Should be available.
Must Be capable to run GTA SAN andreas.
Minimum 1Gb ram, or more than 2Gb (recommended).
install CLEO mods on Gta SAN Andreas in android without root
So guys to install CLEO MODS on GTTA SAN Andreas in android without root you need to download Cleo scripts and GTA SA Non- root APK.
So guys once you have downloaded Follow me for step by step procedure:
Do i need root for to Install Cleo Mods On GTA San Andreas in android?
According to it's official mod for android you must have to root your device before installing the game because it won't get install if you won't.
So no worry in this tutorial i will guide you step by step process to install CLEO mods on GTA SAN andreas in android without root.
My method will be different than you guys have found on other blogs that require root access.
Uninstalling OLD GTA SA
You: wait what the heck your talking bro ? :O should i uninstall my game ? ***Ck
Me: No we are not going to uninstall the game completely bro 🙂 chill chill.
Before uninstalling the game you need to do this:
First thing is that you want to change name inside the data and obb folder name.
You: Well how the heck i should do then ?
First go to your file manager, now if your file manager don't support internal storage access. Then i recommend you guys to install solid explorer or esfile manager from playstore because they are freeware and works awesome.
Renaming Folder name:
Alright guys if you don't know why we are going to renaming the folder.? Easy, so that while you are uninstalling your gta SAN Andreas APK file your data won't get deleted.
If you try to uninstall it straight without changing the folder name then obb and data files will be completely deleted and you need to download the game again and follow my same procedure.
So Guys this is very very Important to do. I hope you guys understand what and why we should do this before uninstalling the official gta san APK.
How To?
Now go to your file manager and open your internal storage then go to android and you will see something like this: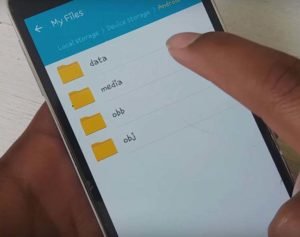 We want to access data and Obb to change GTA SAN folder names to keep it safe. 🙂
So guys go to your data and find com.rockstar folder in it .Once you have found the folder long tap on folder and rename folder by adding numbers or name. It should something look like this "Com.rockstar.gta.san12345". This should change the folder name.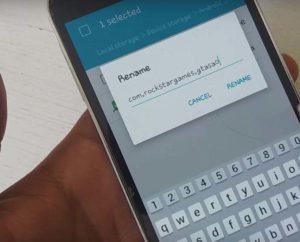 Once you guys have rename your data folder do same thing on OBB folder.
Uninstalling GTA SAN OLD APK
Now once you have renamed both folder name you guys can simply uninstall GTA SAN old apk.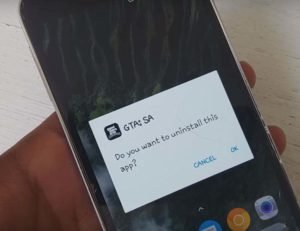 Now i think i really don't need to show you how to install GTA SAN right? 😀 it's easy you can do yourself.
Install Cleo Mods On GTA San Andreas in android
Now guys once you have uninstall then you can install the non rooted Gta San that i have given you on above download link.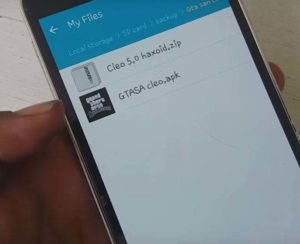 You can install APK now so install the apk file and then all you want to do is change the folder name to it's official again from data and Obb. 🙂
So once you change to it's official folder name, now we need to install CLEO script.
Noitce that you have also downloaded the CLEO script right ? Extract the CLEO zipped file. Then it should Spit out the folder now open the folder and select all those Script files.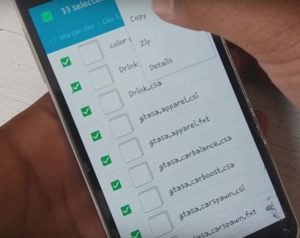 Then you guys can move to data > com.rockstarsgame folder.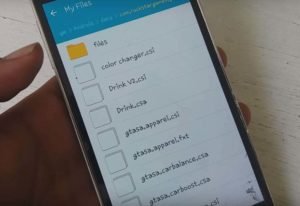 Once you have done this now you guys can open your game or gta san andreas. This should open up your Game with CLEO mod installed in it.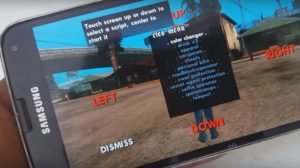 Note: To open your CLEO mod just just swipe from top to bottom from your screen and it should show you up menu.
So, this is how we can install cleo mods on Gta san andreas in android without root.
Have Fun playing the GTA CLEO mod version. IF you love these type of post please Subscribe to my newsletter below 🙂 thank you for reading this post.